Book Direct & Do It Yourself With renuval!
Why Book Direct? Why not "go through" some boobie holiday agency? You can, it's your choice, but at renuval we don't accept money from clients like you for medical care and we help you do it yourself, which means you stay in control. Not just of your money, but of your choices - important choices like surgeon, facility, destination and more. The second you hand over money for fees, deposits or other made-up charges to someone you're going to feel locked in and you may regret it. We've seen it many times.
Everyone raves about working with renuval renuval for breast augmentation in Bangkok or Phuket, hip replacement in Thailand, spine surgery, diabetes treatment, Thailand dialysis, cancer care and much more because we're fast, we're friendly, we don't touch your money and we care. We can get you multiple opinions in multiple destinations without you ever leaving your home and we can always find the best specialist for your needs at your desired location and price point.
Give us a try at info@renuval.com and let us help you cut through the BS out there, hang on to your money and stay in control. It's free, we offer lifetime support and our team has assisted thousands of client inquiries at partners in Bangkok, Phuket, Pattaya, Koh Samui, Sri Racha, Chiang Mai, Hua Hin and at our other partner destinations. We can help you too - and we'll be enthusiastic to do so :)
Get Free, Fast, Friendly Help Now, During & After Your Trip
Book Direct, Don't Pay Any Money To Us - Ever
No Deposits, No Fees, No Companion Charges, No Marketing Nonsense
Let Us Find The Best Doctor, The Best Price & Best Location
Get Free Lifetime Support From Us For Your Care
Work With Us How You Want - Email, Phone, SMS, Chat, You Decide!
Get First, Second & Third Opinions For Free
Don't Get Talked Into Easy Solutions To Complex Situations :)
What can we help with? Just let us know and our team will spring into action - even if you're not a renuval client and you need help, we'll assist you, just like we have with countless people who thought they made the right choice because of fancy branding and found out, later, that not everyone cares about you and knows what they're doing. We're here, we know the doctors, surgeons, nurses, managers and directors and we know how to get things done.
Need more info? Tell us below!
Partners Across Thailand That We Know
We know, you've seen those sites that claim hundreds of partners - so impressive!
Do you really think any company, especially a foreign company not in Thailand, can know that many partners, work closely with them and get things done for you? The short answer is: lol
At renuval we've taken a unique approach, which is to target the hospitals and centers we need to get you access to the widest range of doctors, surgeons and advanced medical equipment possible - wherever you want it at a price point you can afford. That's why we're pioneer partners with so many regional facilities and why our partners trust us to support you, keep you informed and make sure you (and we!) do our part so that thay can do their part more effectively.
Need some names? Bangkok Hospital HQ, Samitivej Sukhumvit Hospital, Bangkok Hospital Chinatown, Nirunda Clinic, Vejthani Hospital, Krabnakarin, Bangkok Hospital Phuket, Samitivej Srinakarin Hospital, Bangkok Hospital Samui, BIDC, Phuket Dental Signature, Bangkok Christian Hospital - the list goes on and on. Take a peek at some of the facilities:
If you're ready to get started right now, you can request more info about a specific procedure and Care Partner now by using our handy booking box:
Every single hospital we work with is JCI Accredited (read more here) as is our dedicated dental partner in Bangkok. All of our Care Partners are fully equipped international facilities with English-speaking staff (and, in some cases, up to 20+ other languages) and, in the case of the hospitals, international food, wifi, private VIP rooms and much more.
As we mentioned, JCI Accreditation is crucial for hospital care, but don't take it from us:
Play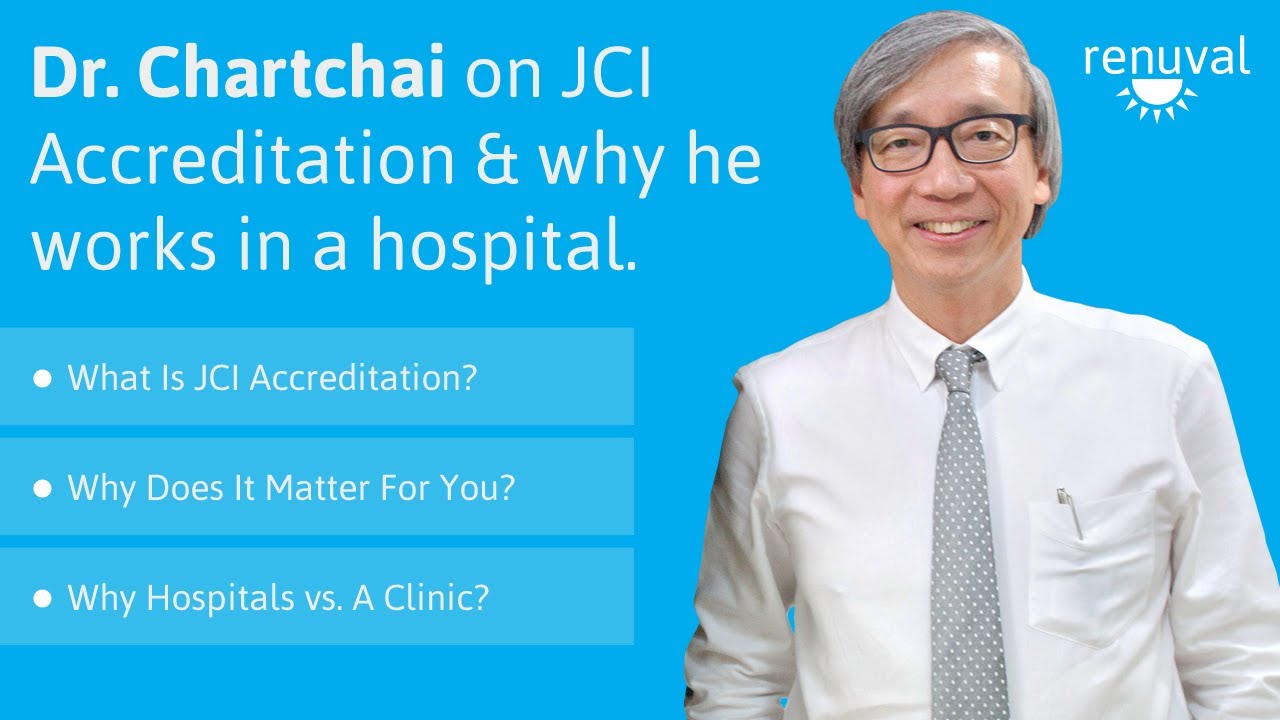 That's Dr. Chartchai Rattanamahattana, a very senior plastic surgeon who works primarily at Samitivej Sukhumvit and with whom we are close partners - he's just one of the many talented surgeons, doctors, dentists and specialists we work with, but all of our facilities are staffed with leaders in their field like Dr. Somboon in Urology or Dr. Art in Colorectal Disease, Dr. Keerati in orthopedics, Dr. Kosin in cardiothoracic surgery, Dr. Captain in retinal disease - of course that's not to downplay our partner plastic surgeons like Dr. Chartchai, Dr. Theera, Dr. Piyapas, Dr. Rushapol, Dr. Poonpissamai & Dr. Poonsak, who are all fantastically skilled, Board Certified Plastic Surgeons with a history of providing great results for people like you.
Want More Info On Who & Where?
Learn, Get Estimates & Book Direct Now!
First you'll have questions - and that's what we're here for, to answer them. As time goes on, you may want to get feedback from one of our partner doctors, surgeons, dentists or eye care specialists - we're here to help with that too. We'll also help book your appointment and handle everything, but it all starts with you letting us know what you need.
Or, if you've still got questions, you can just ask and we'll get right back to you :)
Any Final Questions?